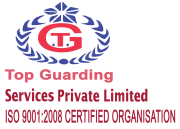 The Top Guarding Services Private Limited is a professional total Security Solutions provider. We provide innovative and strategic security based business solutions and specialized services customized to minimize loss.
The operations are supported by 24×7 control room, proactive operations team and a dynamic corporate infrastructure. Top group is a 100% government statutes compliant organization. Top group with its proactive approach is probably the first organization which is compliant to the new security act by the Govt. of India.
There is no dearth of Talent among the cadres of top management. The area of specialisation is well demarcated and appropriately assigned to respective experts for compliance. 

We have succession planning in place and effortless transition takes place in case of any key employee resigns / transferred to other assignment. 
Top Guarding Services Private Limited draws heavily on best practices. A core group of the company consisting managers and experts drawn from various regions meet every month for Two days to discuss and evolve new strategies and plans for organizational growth and development. Stock taking is done and plans fine-tuned keeping the dynamics of the market into consideration. The plans are not water-tight; they are fluid in nature and are easily adaptable – without loosing focus of the key objective.
Our Goal
Expansion of business to reach a turnover of 100 crores.
Opening of new branches
Strengthen procedures and systems for enhanced customer delight.
Follow CRM practices to become a preferred vendor for discerning organizations.
Emphasis on HR practices and achieving set standards for internal customer satisfaction.
Providing broad based complimentary services.
Consolidation of business.
Sustained growth.
Role model for other companies to emulate.
Vertical expansion.
Top Guarding Services Private Limited has tried, tested systems and procedures refined over a period of time. As a firm believer of best practices and an industry leader Top group is setting service delivery standards for other companies to emulate. 
Setting up of offices across country and overseas.
Contact Us
SN-13, Shiva Nagar, 
Tankapani Road, 
Bhubaneswar-18
Tel : 0674-2436021, 
Mobile : 9937034675